Home decor can be a challenging task to master. Particularly for those wanting to keep up with the latest, modern interior trends, whilst putting their own individual spin on their home.
Perhaps you have seen the colourful and welcoming Moroccan Berber trend, a theme that you have been wanting to incorporate into your home? For those wanting to transform their home, but are unsure of where to begin, we can help. 

Able to transport you to the bustling streets of Marrakech, or a quiet, shaded riad on the outskirts of Essaouira, mastering the Moroccan Berber theme can be rewarding.

Promising relaxation and comfort after a busy day out in the wind and rain, we aim to walk you through some of the basics, promising instant Moroccan vibes to ignite memories of lazy evenings reclined under the stars.

Here are our top tips for those wanting to master the Berber theme, but are unsure of where to start.

What Is Moroccan Berber?
You have heard the name, but up until now, you have been unsure of its definition. Berber, an ethnic group from Northern Africa, Berbers are traditionally craftsmen and farmers, living in the mountains of Morocco.

With their own language and culture, the Berbers are a proud group who can be found farming in the valleys and mountains, or running small shops, selling their traditional handicraft. From embroidered rugs, curtains and loungewear, the streets surrounding the souk of Marrakech are a top choice to spot and purchase their handicraft for yourself.
When shopping and sampling the beautiful products on display, what can be noticed, is the array of colours and designs that accompany the Berber design. Not for the faint-hearted, to master Berber, more is always best, adding drama and colour to your home.

Below are some simple techniques for those taking their first steps in adding some Moroccan magic to their interior. Grab your leather pouffe, Morrocan slippers and pour yourself a large pot of mint tea.

Colour theme
When it comes to mastering the Berber theme, along with choosing the correct accessories, the colour that you add to your home is just as important, take a look at this piece on painting with Moroccan colours. Whether you are keeping your interior bright, through deep greens and extravagant pinks and reds, make sure that your colour theme matches your interior perfectly.
For those unsure and not yet ready for the addition of bold colour to their home, it is recommended to keep the colour theme simple and clean. Through the addition of cream and whites, this colour scheme will benefit a cream Berber rug and the occasion pop of blue.
Although colour is important in mastering the Moroccan Berber theme, too much colour can become messy and make a room look smaller in size.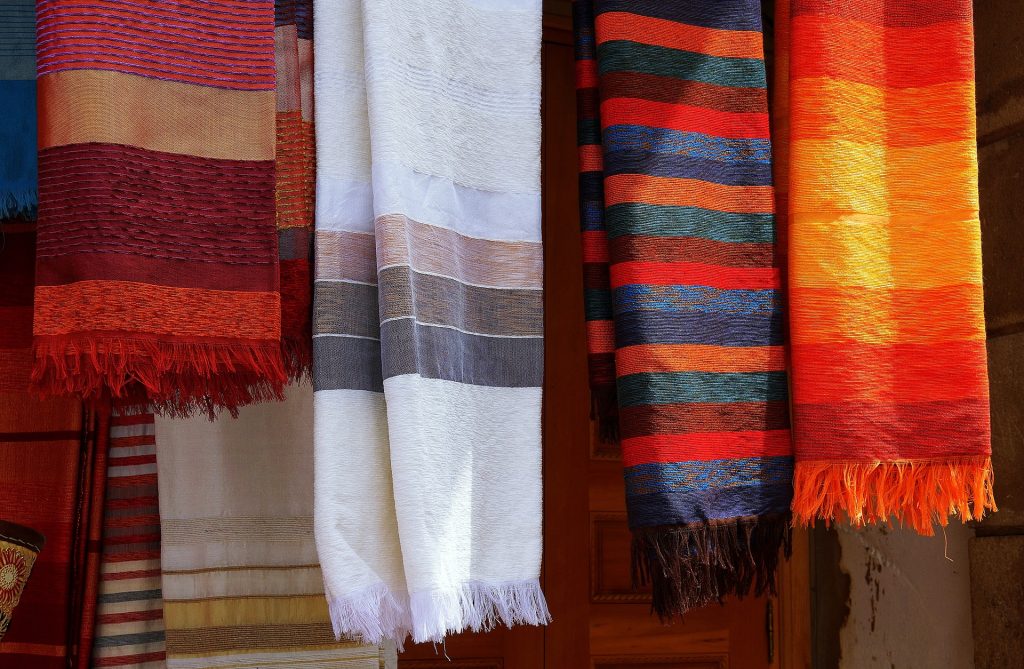 Textures
A key part of adding some Berber into your home and that is through the addition of fabrics and different textures. Slowly weave different materials together within a room, creating warmth and comfort. Thick, tasseled pillows and soft linens, can create subtle tones, whilst creating a visual impact when welcoming guests into your home.

When choosing pillows and linens into your room of choice, make sure to add some colour, keeping with the bright and fun Berber theme. Whether as a pop of colour or an additional feature, the importance of texture within Moroccan design, should not be ignored.

Lanterns
A traditional Moroccan accessory that graces many a souk in an old town, a glass lantern is one of the easiest ways to add some Moroccan style to your home.
Helping to brighten up your room, the colour and shapes that these lanterns can project across your walls will be hypnotic.
Typically made of brass, with a colourful mosaic design, Moroccan lanterns, promise to stand out against cream white walls for some added colour.
Rugs
One simple way to master the Moroccan theme, without having to redecorate your entire house, and that is to throw down some traditional, colourful hand woven rugs. Extra large in style, Berber rugs are iconic and are a feature in many stylish homes. Iconically, white in colour, there are a number of different styles available, so choose a design that is best suited to your style, which also blends with the decor of your home. Take a look at this article to help guide you through Moroccan tribal rugs.

Pillows and throws
Just as important as the addition of Berber rugs and soft linens, throws and pillows can add the finishing touches to creating the Berber inspired home that you desire. Whether scattering the pillows across your contemporary armchair or along the floor to grasp the traditional Morrocan style.

When it comes to choosing the perfect Moroccan cushion or throw for your home, the darker tones, the better. Finish with embellishments, pom-poms and tassels, both soft pillows and throws can create a welcoming area where you will wish to lounge and unwind.

The finishing touches
When visiting Morocco, it cannot be avoided, the natural, earth coloured cooking pots and sun kissed oranges and pinks that decorate the busy streets. Taking inspiration by the colours of the surrounding environment, to finish your Berber inspired home, it is recommended that you too should do the same.

From a large clay tagine, placed in the center of your dining table, to detailed silver tea cups for enjoying a healthy, antioxidant filled tea. Colourful, patterned plates, copper large trays, detailed gold mirrors to metallic plant pots, the finishing touches are just as important when nailing the Moroccan vibes that you seek.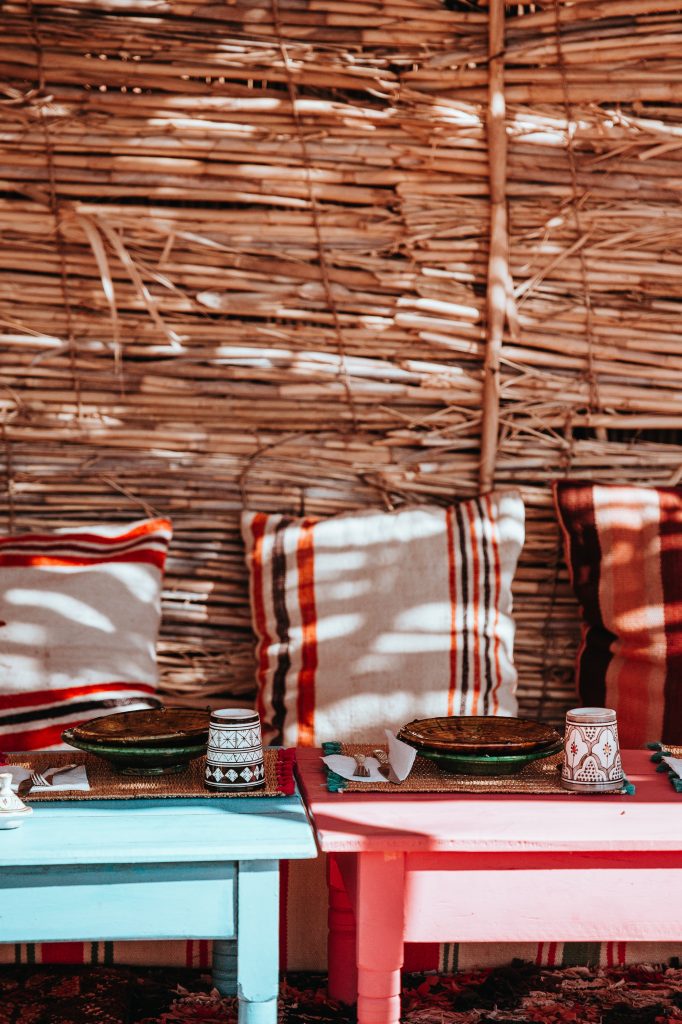 There you have it, the many simple ways that you too can follow to achieve the Moroccan Berber look for yourself. Whether through the addition of colour and soft textiles to the finishing touches and bold and relaxing shadows created through lanterns.

No matter whether you choose to purchase your accessories in the souks of Morocco or at your local home decor shop, by adding bold and colourful accessories to your home, you can create a warm and welcoming area to unwind in.
Igniting memories of the distant summer, when it comes to creating the best result possible, it is advised to remain bold and embrace colour. We hope that we have answered any queries or worries that you had about mastering the Moroccan Berber theme for yourself and are now inspired to go and update the interior of your home.

Have we missed any top tips? Let us know, or feel free to share with us your top tips on achieving a Moroccan Berber inspired home for yourself.